The Rainlights Gazette ::
Bettina Burger, Mikah Lee, Monika Pleyer, Katharina Wloczek (eds.)
THREE SHEETS TO THE WIND
ISBN 978-3732278770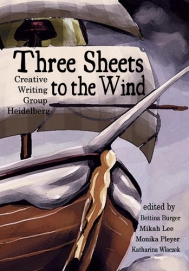 Join the Creative Writing Group of Heidelberg University as they plunge into an ocean of riveting with their collection of pirate short stories. Shipwrecked pirates, boys on their first adventure and women in trousers who dare to be captains!

These and more are the pirates and wenches who try to live their life in the perilous Caribbean between the 17th and 19th century. And there is the blond stranger who seems to follow the pirates throughout history ...

C O N T E N T S

Giuseppina Agostinetto-Lesle - Freedom Of The Pirates
Bettina Burger - Out Of The Sea
Stefano Domingues de Castro Pachi - Them Tales Untold
Miki Gallasch - To The Lees
Nina Grevener - Bird's Eye View
Jana Gulyás - Dimitri And Thyme Are Sad
Erik Hauser - A Hole In The Universe
Caroline Kacperski - A Night Full Of Surprises
Anna Kurotpatkova - Jolly Roger
Jaysoo Lee - The Taming Of Captain Joe Spinnet
Mikah Lee - Dead Men Don't Chuckle
Andreja Malovoz - Ballad Of The Ivory Reef
Sierra Patheal - The Highest Point
Oliver Plaschka - The Island
Monika Pleyer - In search of Memories
Hans-Peter Schöni - The Life And Times Of Dread Pirate Hansom
Ionna Simon - Technical Difficulties
Jana Ulbrich - The Hour I First Believed


> > > Downloads and more related to
Creative Writing at Heidelberg University
can be found on a separate page.