The Rainlights Gazette ::
Monika Hartenauer & Jakob Möritz (eds.)
DARK PASSAGES
ISBN 978-3842326071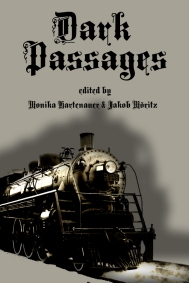 Ladies and gentlemen, please step back, the Orient Express is about to depart … but not everyone who boarded the train in Paris will leave it — alive …

Who will survive these mysterious events, and who will fall prey to equally mysterious passengers? Meet a glamorous cast of murderers, thieves, vampires, and many others on a magnificent journey of the Orient Express in the cold December of 1899.



C O N T E N T S

Elke Zenker - Please Step Back, the Train is About to Depart
Martin Morath - Pendulum
Carolina S. Sciponi - No Rest for the Wicked
Marjolijin Storm - Jane on the Train
Bettina Burger - Immortal
Marina Baženova - The Confession of Phillip L. Howard
Michael Pleyer - No One No Where
Monika Hartenauer - A Minor Inconvenience
Erik Hauser - Stoker Brom
Angela Queisser - A Safe Journey Home
Hans-Peter Schöni - By the Rockets' Pale Glare
Ulrike Stölzel - Hunger
Christian Schneider - Miss Teeth
Matthias Reissmann - The Absent Time
Jakob Möritz - Encounters
Tina F. Hüther - The Velvet Ribbon
Celina Kacperski - The Second Right Next to Ours
Giussepina Agostinetto-Lesle - A Mystery on the Orient Express
Oliver Plaschka - The Stowaway


> > > Downloads and more related to
Creative Writing at Heidelberg University
can be found on a separate page.