The Rainlights Gazette ::
Tina F. Hüther, Marina Machauer, Jonas D. A. Hock (eds.)
SPECTACULAR, SPECTACULAR!
ISBN 978-3844813753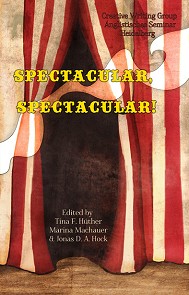 Ladies and Gentlemen, Boys and Girls, children of all ages! Welcome to the most spectacular show the world has ever seen!

The members of the creative writing group have assembled an overwhelming collection of breathtaking acts, daring feats and stupefying illusions for you to enjoy. Prepare to be amazed when you see the lion-tamer confront the most harrowing beasts imaginable, witness our magician performing astounding tricks, join our trapeze artists on their daring flights and take a glimpse into your future in our sooth sayer's tent.

Come closer Ladies and Gentlemen – the Circus is in town! Spectacular, spectacular!

C O N T E N T S

Christian Schneider - The 24-Hour Man
Jasmin Friedrich - Outside the Velvet Curtain
Giuseppina Agostinetto-Lesle - Circus Life or the Circus of Life
Jana Ulbrich - For There She was
Anna Kuropatkova - Welcome to the Circus
Elke J. Zenker - No Real Soothsayer
Denis Schröder - Aymara
Tina F. Hüther - White Linen
Julia Klein - Tame
Bettina Burger - Double Act
Martin Morath - Mr. Hobbs
Jakob Möritz - Cisko the Clown
Laurence Williams - Tu Semper Mecum
Monika Pleyer - On this Momentous Night
Jonas D. A. Hock - Little People
Oliver Plaschka - Meditations On An Unsuspecting Assistant
Jana Gulyás - Sergeant Peter's Perpetual Passion
Marjolijn Storm - Le Soleil et la Lune
Angela Queisser - That Big Scene
Jasmin Friedrich - Behind the Velvet Curtain


> > > Downloads and more related to
Creative Writing at Heidelberg University
can be found on a separate page.